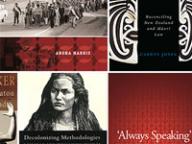 In 2018 NPM Co-Director Professor Jacinta Ruru (Raukawa, Ngāti Ranginui), Associate Professor Angela Wanhalla (Ngāi Tahu) and Jeanette Wikaira (Ngāti Pukenga, Ngāti Tamaterā, Ngāpuhi) curated Te Takarangi, a sample list and exhibition of 150 Māori-authored non-fiction books published between 1815-2017.
Working together with The Royal Society Te Apārangi, they assembled a collection of titles that signalled and initiated change and, at times, captured the aspirations about what was, and is, possible for Māori and for the future of Māori and Pākehā in Aotearoa New Zealand.
Te Takarangi was designed to celebrate the long history of Māori scholarship that exists in Aotearoa. The cumulative weight of the research these books embody is outstanding, representing an incredible collection of voices of Māori inspiration for this nation, talking to us from the past and charting a pathway forward into the future.
Now in 2020 the power of this collection to inform and initiate better understandings by opening a doorway into new realms of knowledge is enhanced. Resistance and decolonisation have been recurring themes in all forms of Māori writing, including non-fiction.
In a Spinoff article this past week Jacinta, Angela and Jeanette highlighted 10 key books from the collection and reiterated the power of Te Takarangi to create change, encouraging all of us to "take action to listen to the voices and experiences of Māori to help create an anti-racist nation. To do this you should read our words. Our many, many words."
"While we stand in solidarity with Black and Indigenous communities experiencing ongoing violence overseas, we have plenty of work to do here in Aotearoa too. These 10 seminal anti-racism texts by Māori authors are a great place to start."
Link to the Spinoff article here
Link to the online Te Takarangi exhibition here